When making the specialty steel bar gratings, the bearing bar is tilted to an angle for less volume and higher mechanical strength. This type of metal grating is suitable for use in construction sites that require aerial work, residential buildings, industrial plants, etc. Plus, Jiulong designs and manufactures versatile installation clips for fastening steel bar gratings.
Specialty Steel Bar Gratings
1. Stainless steel bar gratings
2. Large-scale steel bar gratings
3. Reinforced steel bar gratings
6. Grating with round bar
If the above specialty steel bar gratingss cannot satisfy you, we offer custom service and need to know the following information:
1. Models of grating
The model usually includes three parts, the value of width multiplied thickness of bearing bar, spacing between bearing bars and spacing between cross bars, such as JG325/30/100 and JG255/30/100S.
2. Dimensions
The length of grating means the length of bearing bar while the width means the length of cross bar.
3. Amount
When the order is not big, the quantity is measured by piece. When the order is big, the amount is measured by area (m2) or weight (kg). (YB/T4001.1-2007 Standard)
4. Edge Welding
Usually, we use flat bar for welding the ends of grating. If demanded, we can choose different materials or no edge welding.
5. Surface Treatment
The architectural grating usually undergoes hot-dip galvanization as surface treatment. Other types of treatment or non-treatment are also available.
Clips
Beststeelgratings also manufactures grating clips for fixing steel bar gratings. It's rigid and easy to dismount.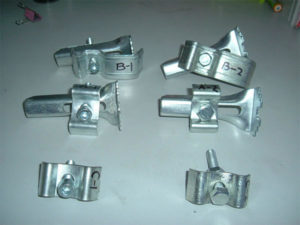 Clips
Type A
Type B
Type C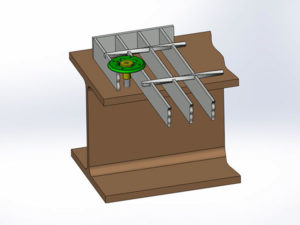 Type D
Type A
This clip is easy to install and competitively priced. However, for long-term usage and frequent vibration, the bolt will be loose.
Type B
Aside from easy installation and cheap price, this clip fastens two gratings together, which is very convenient. Like Type A clip, it will also go loose when long-term application and frequent vibration.
Type C
Because this clip is directly fixed on the bar, allowing for an excellent fastening effect, even under long-term usage and frequent vibration. The disadvantage is that users should weld the clip onto the bar when installing.
Type D
This clip provides strong and dependable fastening, even in a working environment with frequent vibration. Compared to other types of clips, this one is a little expensive but we believe it's going to be used in more and more projects in the future for its excellent fixing and fastening ability.
Packaging of Bar Grating
For finished gratings, we usually pack them with steel belts and timbers, making it easy to load. As for steel gratings, we usually wrap them with flat steel. If you have special requirements, we can use packaging materials you appoint.[/vc_column_text][/vc_column][/vc_row]